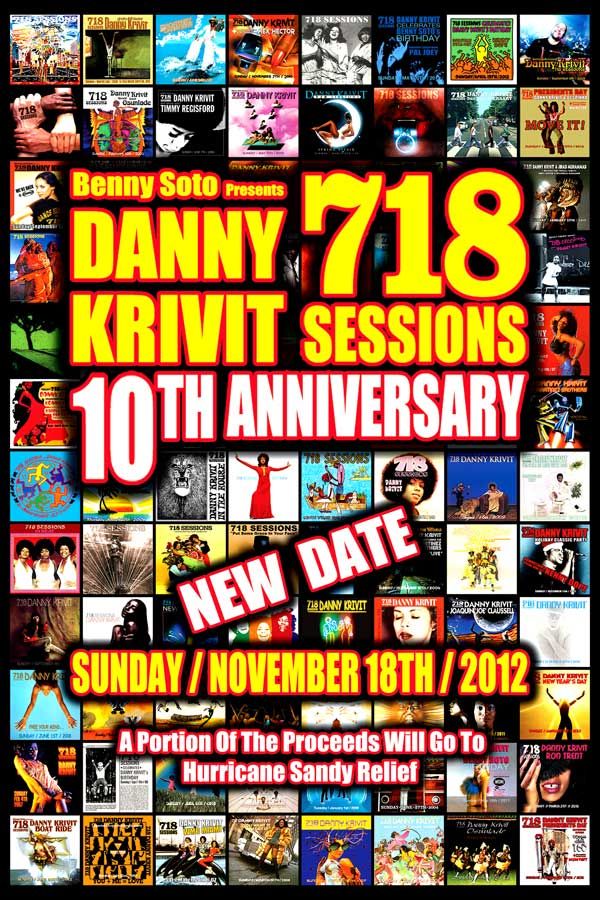 HI All,

For those of you in the NYC metropolitan area I hope you and your loved ones are all ok after the storm....

Unfortunately I have been with out power until now and was unable to get this updated info out in real time... So for those that have not heard yet the following message was circulated this past week where it could be.
After some discussions over the past few days, Danny Krivit and I have decided that in light of the Hurricane Sandy Disaster it is better to postpone this coming Sunday's 718 Sessions 10th Anniversary Celebration to Sunday, November 18th. We just need a moment to breathe. We know many of you would try your best to make the party on Sunday but we think taking a moment to process what has happened in our city is the best thing right now...for us. Reaching out to friends, doing something to help...just checking up on someone feels right..NOW.

We have decided that a portion of the proceeds from the anniversary party on Sunday, November 18th will go to Sandy Relief efforts. So please check back on Facebook and please check your emails for our next update. Tell a friend that may not know if you can. We know that making calls and having an internet connection over the last few days has been challenging for many of us. If you are connected please spread the word. Again, the last thing we wanted to do was change the date of our anniversary party. We are truly sorry. We know many of us were looking forward to this. FYI-Hex Hex Hector and Jason Ojeda will be joining us on the rescheduled date. See you all on the 18th...Benny : )

PLEASE JOIN US...
Sunday, November 18th

Benny Soto invites YOU : )
To join us for a very special birthday...

718 SESSIONS-10th ANNIVERSARY BASH!

Who would of thought we would still be doing this
10 YEARS later! So please join us as we thank YOU for
a decade of awesome dance parties. We could not have
done it without all of you. Thanks so much for all the
LOVE and support you've shown us : )

Music by DANNY KRIVIT!
www.dannykrivit.net

HEX HECTOR & JASON OJEDA on the lower level!

Lights by the one and only...ARIEL : )

Check out Rosie Perez giving 718 Sessions a shout out on Late Night TV Show:
http://www.youtube.com/watch?v...6to&noredirect=1

Doors 6pm

STILL $5 for the first 100 people before 6pm. $12 with a flyer/printout/membership card. $20 without!

Santos Party House
96 Lafayette St.
(Between Walker & White Sts)

bennysoto@gmail.com for more info.