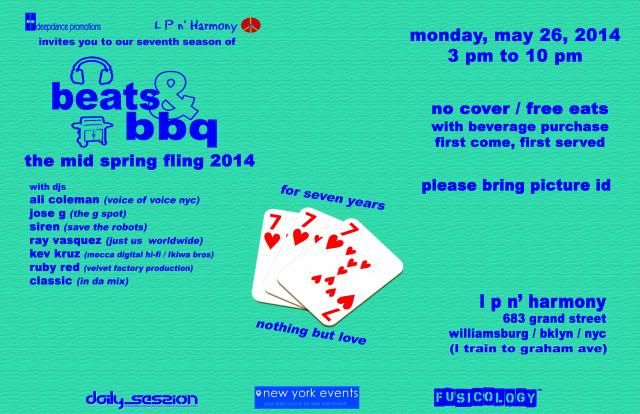 The original daytime holiday experience in dance and dine is back starting our seventh season, just in time for Memorial Day. On Monday, May 27, 2013 from 3 pm to 10 pm at LP 'n Harmony (683 Grand Street), Beats & BBQ will provide the Williamsburg, Brooklyn community its successful combination of "Soulful Dance Music, BBQ and You". With each beverage purchase, patrons are entitled to a plate of free food. Music is provided by DJs Jose G (The G Spot), Ali Coleman (Voice of Voices NYC), Siren (Save the Robots), Ruby Red (Velvet Factory Production), Kev Kruz (Mecca Digital Hi-Fi / Ikiwa Bros), Classic (In Da Mix), and Ray Vazquez (Just Us Worldwide)

Since 2007, Beats & BBQ has been a grassroots event that takes place on the holidays of the summer season (Memorial Day, 4th of July, Labor Day). It is a co-production by Deepdance Promotions and LP 'n Harmony bar. We produce this event to promote community and togetherness through good food, good dance music, and good cheer from our patrons. For additional info email acidreg@gmail.com

Please make certain to bring your bring ID.