Groove SIXTEEN w/ Hex Hector @ XVI Lounge Rooftop 08/18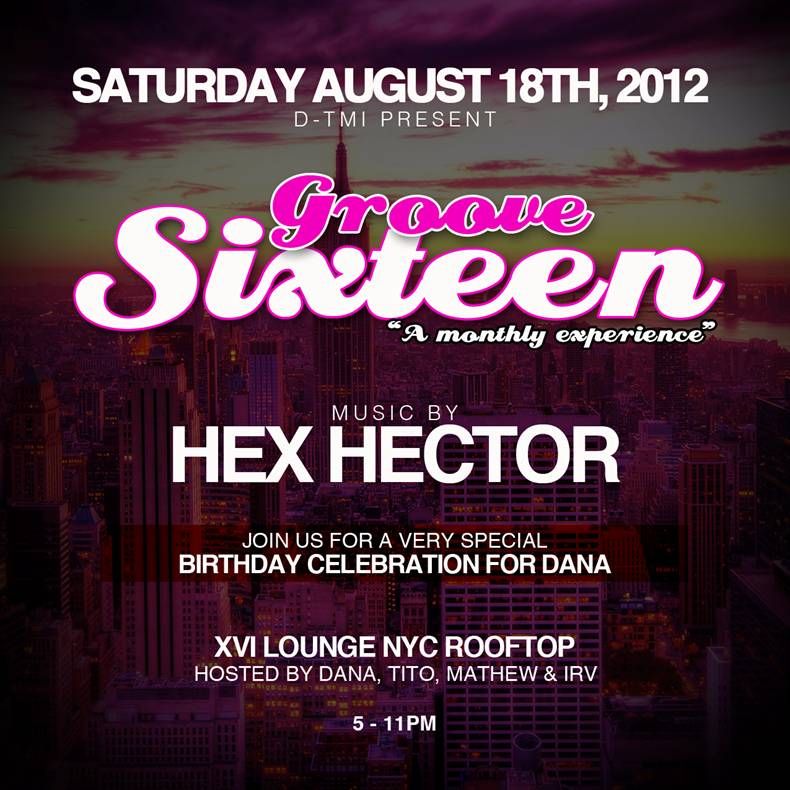 Saturday, August 18th, 2012
D-TMI Present
Groove SIXTEEN
'A Monthly Experience'

Music By
HEX HECTOR

Hosted By: Dana, Tito, Mathew and Irv

Join us for DANA'S very special BIRTHDAY CELEBRATION!

Doors: 5-11PM

Ladies Free all Night - Guys $10
Complimentary Vodka Cocktails till 6PM
RSVP to GrooveXVI@GMail.Com

XVI Lounge NYC Rooftop
251 West 48th Street - 16th Floor (NE Corner of 8th Avenue)
New York City
WWW.XVINY.COM

XVI Rooftop is located in the heart of the Midtown West neighborhood. Situated in the buildings 16th floor, with 2,500 square feet, you can enjoy stunning views of the Hudson River, the amazing sunset or just get into the music high above. XVI Rooftop was coined by it's mgmt as "Versailles in the Sky" and is known for it's Louis the XVI inspired design, fun & relaxed atmosphere early in the evening & great vibe late into the night. There is also a glass roof in the event some rain comes along.