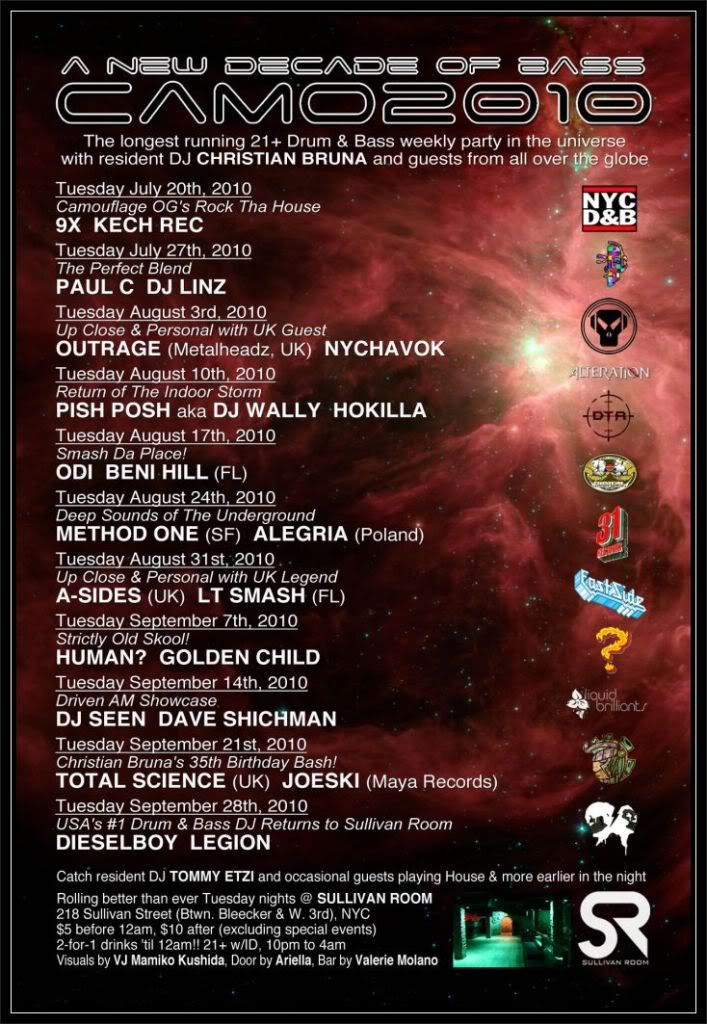 50/50 Productions proudly presents the original 1 and only...
CAMOUFLAGEXTRALARGE 2010
An Authentic Blend of Drum & Bass for Mature Audiences Every Tuesday Since 1997
USA's longest running 21+ D&B weekly party with resident DJ CHRISTIAN BRUNA and guests from all over the globe!
Camouflage is now at Sullivan Room.
Recently voted in DJ Mag as one of the Top 100 Clubs in the world.
More space, more bass, lazers, lights and visuals for an ultimate
Camo experience in an air conditioned world-class venue!
Tuesday July 13th, 2010
Homegrown Talent
RAW Q aka DJ BEAU
ART BLAKEY III
Tuesday July 20th, 2010
Camouflage OG's Rock Tha House
9X
KECH REC
Tuesday July 27th, 2010
The Perfect Blend
PAUL C
LINZ
Tuesday August 3rd, 2010
Up Close & Personal with UK Guest
OUTRAGE (Metalheadz, UK)
NYCHAVOK
Tuesday August 10th, 2010
Return of The Indoor Storm
PISH POSH aka DJ WALLY
HOKILLA
Tuesday August 17th, 2010
Smash Da Place!
ODI
BENI HILL (FL)
Tuesday August 24th, 2010
Deep Sounds of The Underground
METHOD ONE (SF)
ALEGRIA (Poland)
Tuesday August 31st, 2010
Up Close & Personal with UK Legend
A-SIDES (UK)
LT SMASH (FL)
Tuesday September 7th, 2010
Strictly Old Skool!
HUMAN?
GOLDENCHILD
Tuesday September 14th, 2010
Driven AM Showcase
DJ SEEN
DAVE SHICHMAN
Tuesday September 21st, 2010
Christian Bruna's 35th Birthday Bash!
TOTAL SCIENCE (UK)
JOESKI (Maya Records) + more TBA
Tuesday September 28th, 2010
USA's #1 Drum & Bass DJ Returns to Sullivan Room
DIESELBOY
LEGION
Catch resident DJ TOMMY ETZI and occasional guests playing House and more earlier in the night.
Rolling better than ever Tuesday nights @ SULLIVAN ROOM
218 Sullivan Street (Btwn. Bleecker & W. 3rd), NYC
$5 before 12am, $10 after (excluding special events)
2-for-1 drinks 'til 12am!! 21+ w/ID, 10pm to 4am
Visuals by VJ Mamiko Kushida, Door by Ariella
Bar by Valerie Molano
Check the sites for special events and updates.
Sullivan Room
Camouflage 2010