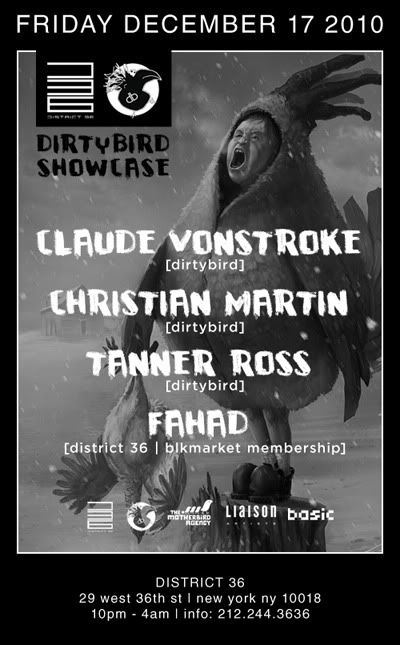 Friday December 17th
District 36 presents...
DIRTYBIRD SHOWCASE
with
CLAUDE VONSTROKE
[dirtybird]
CHRISTIAN MARTIN
[dirtybird]
TANNER ROSS
[dirtybird]
FAHAD
[district 36 | blkmarket membership]
Established in 2005 by label boss Claude VonStroke, the dirtybird logo derived from a sketch cartoon character Claude has been drawing since he was 10 years old. The idea for the label began in 2002 during the production of "Intellect," one of the most intensive studies on DJs and producers of house and techno music ever filmed. To follow came numerous hugely successful label partys in San Francisco. Since then, both the label and the dirtybird party have enjoyed massive success worldwide. Classic records released by dirtybird include "Deep Throat," "Stoopit," "Who's Afraid of Detroit?," and "The Whistler."
Following up on his tent-shaking Electric Zoo performance this past summer, Claude returns to New York along with label mates Christian Martin, Tanner Ross, and special guest District 36 resident Fahad!
Table reservations are first come first serve.
We will be operating at a reduced capacity.
DISTRICT 36
21+ with valid ID
info | 212.244.3636
doors open 10pm
29 w. 36 st. nyc