It's official! Budda Khan's album "Musick'n'Sophware" has officially been released to major online music distributors! The album is available at Amazon and iTunes right now ahead of schedule! It will also be available on Beatport beginningWednesday, January 5th.
It's a true Molaman Famly affair for
"Musick'n'Sophware", the 2 CD release by Budda Khan , featuring vocals and production work by BK himself as well as songwriting and production credits by label heavy hitters Mikeloliver and Kid Ghost. To say the expansive collection
takes you on a journey is a grand understatement as it travels throughpsychedelic internal dialogues, slick and textured deep house undulations, and gospel flavored melodies. "Musick'n'Sophware" is a true symbiotic orgy of technology and nature that will keep you connected from the very first snare drum crashes all the way until the
solemn closing introspective.
Molaman Records is committed to releasing singles, full-length albums
and EP's by innovative, creative and expressive artist. Our music
releases in the coming months will be legendary; pushing the envelope
in house music. This is the Molaman mantra and we are indubitably
committed to this. Molaman artist specialize in songs and releases that
take the listener on an all encompassing journey, songs that stand on
their own as powerful musical compositions supported by ultra savvy
technical skill. These are songs you can listen to all the way through
and not have to/want to skip around looking for the club hit or get
past "the break". Bumpin-deep House and experimental house music.
In the coming months look forward to hearing tracks that will melt
dance floors and bend ears off faces time after time.
Please enjoy special access to hear this release and additional limited
access material from our artists and listen to a FULL ALBUM TEASER of Budda's album
at
http://soundcloud.com/mikeloliver
including B-sides and unreleased remixes of Budda's tracks!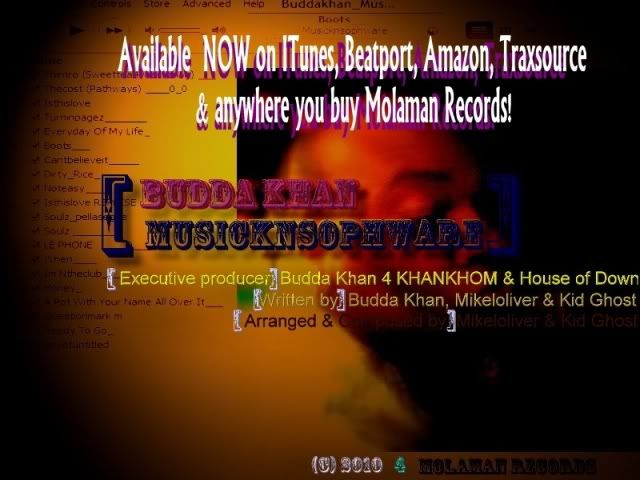 Purchase on iTunes at
http://bit.ly/i636HT
Purchase on Amazon at
http://amzn.to/eunpZ4
Download a special promo only remix of Budda Khan - Isthislove (The
Mumps Scully Remix) which was performed Saturday, December 18th
at Sullivan Room as the grand finale for The Molaman label-wide
Release Party!
click link to download!
http://soundcloud.com/mikeloli...re-full-album-teaser