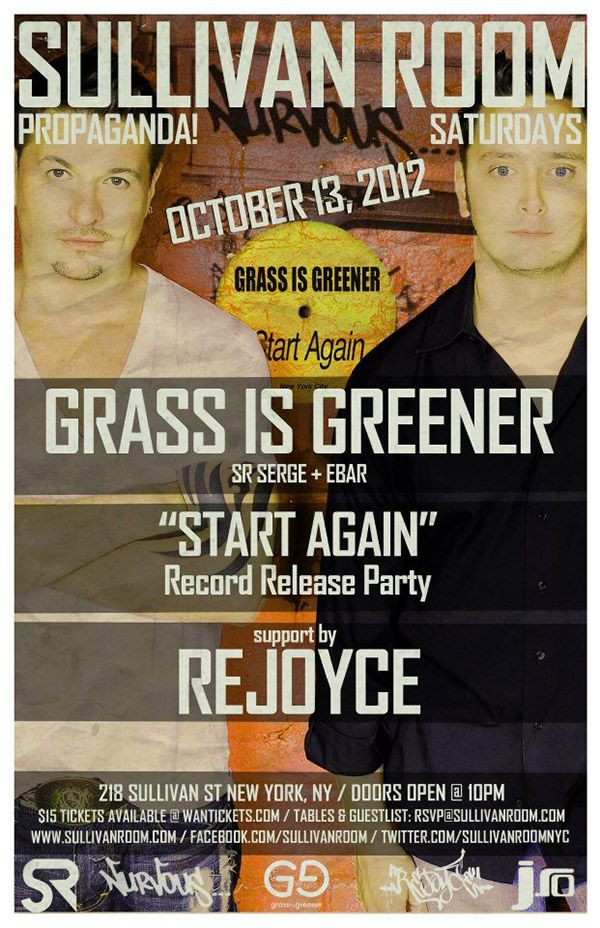 Come see for yourself what makes the Electronic Dance Music world go round... The people, the vibe, the talent…
SULLIVAN ROOM PROPAGANDA! 038:
GRASS IS GREENER

www.facebook.com/GrassIsGreenerNYC
[Nurvous Records]
www.nervousnyc.com
presents



START AGAIN Record Release Party
Grass Is Greener is the new collaboration between two of the most exciting emerging talents in the worldwide EDM community; namely SR SERGE (Sergei Sklyarenko) and EBAR (Eric Reithler-Barros). Their debut release "Start Again" is set for release on Nervous' indie dance/nu disco sub-label Nurvous on October 16, 2012. The "Start Again" package also includes remixes from in-demand producers Teenage Mutant (Berlin) and Antares (USA).


As the driving force behind New York's infamous underground house music club: the Sullivan Room, SR SERGE's, (Sergei Sklyarenko) passion for cutting edge electronic music is unparalleled. He is the man who runs the show day in and day out for over 10 years… The result of his efforts have earned the Sullivan Room an internationally respected reputation. Weekly, DJs from across the globe perform in one of New York City's most intimate venues, with a customized Core Audio sound system. Serge's passion for music goes beyond hosting party events. Combined with his artistic wits, he brings the same knowledge and experience to the decks as a DJ and producer. His sets are unique and splash a wide range of sounds and styles. He has moved crowds with his sound on dance floors all over the world. No matter where he plays, SR SERGE leaves the crowd wanting more. A Ukraine native, SR SERGE has called New York his home for most of his life. It was in the city where he first became captivated by the music of Depeche Mode, New Order and Duran Duran, a fascination that led him to discover the thriving New York club scene. First as an avid clubber, then an event promoter, SR SERGE was inspired by the late-night sets of New York legends like Danny Tenaglia and Junior Vazquez, and soon he had his first set of turntables. From running one of the world's top nightlife venues, to performing to packed venues at peak time, few artists are as multifaceted and dedicated to nightlife culture as SR SERGE.


Veteran music purveyor Eric Reithler-Barros has two alter egos: EBAR (deeper house and electronica styles) and Indicant (progressive and techier flavors). He stands in the midst of New York City's electronic underground as a veteran DJ/producer/remixer since 1990, and he shows no sign of slowing down. This is supported by a glance at the names that have shared the DJ booth with him: Josh Wink, Louie Vega, Kevin Hedge (Blaze), Tony Humphries, Jon Cutler, Matthias Heilebronn, Kaskade, Lisa Shaw, Andy Caldwell, Barbara Tucker, Tiesto, Moby, Markus Schulz, Sunshine Jones (Dubtribe) and countless others. He has been spinning his unique brand of music to the world's top clubs for 21 years including Cielo (New York), Rumor (Boston), Spundae (Los Angeles), Tantra (Miami), Sullivan Room (New York), Minyon (Budapest), Le Souk (New York), Folies Pigalle (Paris), BED (New York), Nikki Beach (Miami, Cabo San Lucas), and the wild all-night Full Moon parties of southern Thailand, to name a handful. As an accomplished studio producer and remixer, EBAR has a long list of respected releases on some of the world's most heralded dance music labels including King Street Sounds, West End Records, Peng Records, RCA, Sony Music/Columbia. Remix credits range from underground heroes Ananda Project to commercial hit artists Boomkat, Ludacris, Hanna Hais, and Deborah Harry (aka 80's icon Blondie). As a label boss, EBAR has run his own successful independent underground labels: Sifted (techno), Central Park Recordings (soulful/deep house), and his current project Quarterlife Records NYC (tech and progressive house).


Nervous Records is one of EDM world's leading dance labels, having been a force in the industry since its 1991 inception. In the past year Nervous has created a sub-label Nurvous Records, specializing in the emerging nu-disco/indie dance genre. Nurvous has dominated the Beatport/Traxsource charts since it's first release, with releases from genre stars like Todd Terje, Catz N Dogz, Soul Clap and More. "Start Again" demonstrates the same immediately likeable and accessible musical qualities of the best of the Nurvous Releases, and will be the label'S premier October 2012 release.
REJOYCE
[Not Bad Music / KD Music / Nurvous Records / Exotic Refreshment]
Becoming an integral part of the music you love is a dream for many people, but talented producer, ReJoyce, [Colin Joyce] has made it reality. Coupled with a small stint as a local Graffiti Artist, at the tender age of 14, Colin began experimenting with producing and was thrown head first into the thriving, East Coast Hip-hop culture. Colin quickly became a studio junkie, which enabled him to learn the music industry from the ground up.

By 17, Colin had submerged himself in the infectious world of house music, sneaking into New York's hottest clubs. A newfound love for underground dance music combined with his life experiences served as the formula that resulted in a masterful blend of hip-hop samples and groovy tech house beats. This unique and new-aged sound became the beating heart of ReJoyce as a producer. Capitalizing on his diverse musical background and New York upbringing,

With releases on Not Bad Music, Exotic Refreshment, and Nervous Records, ReJoyce has put himself in the position to lead a New York based renaissance of the tech culture. Colin has no intention of slowing down, and he has one request for his audiences: ReJoyce for the music!
$15 w/ rsvp@sullivanroom.com

21+

10PM-5AM

GET TICKETS:
http://www.sullivanroom.wantickets.com
http://sullivanroom.clubtickets.com/
218 Sullivan St, New York, NY 10012

www.sullivanroom.com
www.facebook.com/sullivanroom
www.pulseradio.net/clubs/sullivan-room


Twitter: @SullivanroomNYC