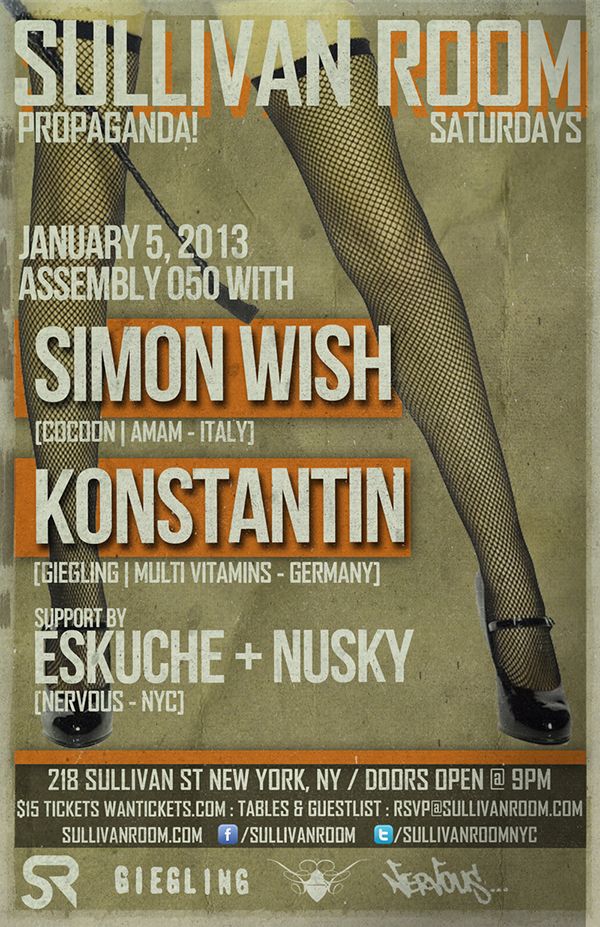 Come see for yourself what makes the Electronic Dance Music world go round... The people, the vibe, the talent…

NYC'S L

ONGEST RUNNING PREMIER UNDERGROUND HOUSE & TECHNO DANCE CLUB!
SULLIVAN ROOM PROPAGANDA! 0

50


PRESENTS:
SIMON WISH
[Cocoon/ Amam - Italy]
Soundcloud / Myspace / RA

Simone Montomoli aka Simon Wish Dj/producer born in Italy and based in the United States has had an early carrier in the music business. Started as a dj in his early 20s,began to developed producing skills in 2007, and by 2008 was already making his own music. His big break came in September 2010 when he made a hit song and was released by Sven Vath's music label Cocoon Recordings. He's been working since then with mayor labels such :

Traum,LofiStereo,Amam,Houserepublic Records,Orion Muzik,Sleep is Commercial,Harthouse,Circle Music,Opossum Recordings,Hoherengler,Jonk Records,Retouch Recordings,Memoria Recordings . He has shown his Dj skills in Italy,Germany,UnitedStates,Canada,Puertorico,Colombia,Brazil,Peru and he is ready to bring his music to any corners of the globe.
Konstatin
[Giegling

- Germany

]
Soundcloud / RA
Support By:

Eskuche + Nu Sky
[Nervous / The Loop]
$15 w/ rsvp@sullivanroom.com
21+


9

PM-5AM
GET TICKETS:

S
ullivan Room Tickets
218 Sullivan St, New York, NY 10012
www.sullivanroom.com
www.facebook.com/sullivanroom
www.pulseradio.net/clubs/sullivan-room

Twitter: @SullivanroomNYC