Ute Lemper: "The Last Tango in Berlin"
September 19th @ 8pm & 10:30pm
*Special Discount for the 10:30pm Performance:
*$25.00 with code FRND + a FREE drink with advance ticket purchase!
For Tix:
https://www.smarttix.com/show.aspx?showcode=UTE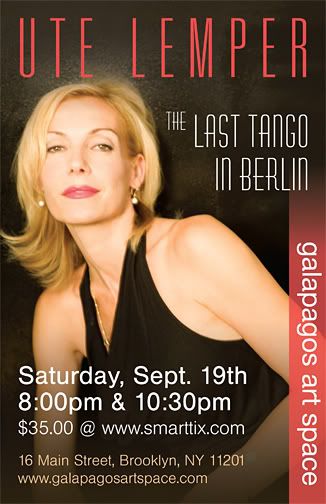 Ute Lemper's performing career grows out of a passionate and enduring commitment to art, politics and history, and out of a contentious and complicated relationship with her homeland and its past. Her panache, versatility and sophisticated repertoire - including Berlin cabaret songs and the dark gems of Bertolt Brecht and Kurt Weill - have led her to international acclaim as a recording artist, and in the theatre, cabaret and film worlds.
Tonight, Ute will sing songs of Brecht, Weill, Brel, Piaf, Piazzolla and Ferre, as well as her original compositions. Join her as she explores the world of Berlin Kabarett, the backstreets of Monmartre and Pigalle with the French Chansons Realistes, and the fantastic, sensual songs of Argentinian Tango in between Buenos Aires and New York.
For more on Ute Lemper, please visit:
www.utelemper.com
Galapagos Art Space
16 Main Street
DUMBO
F to York/A to High