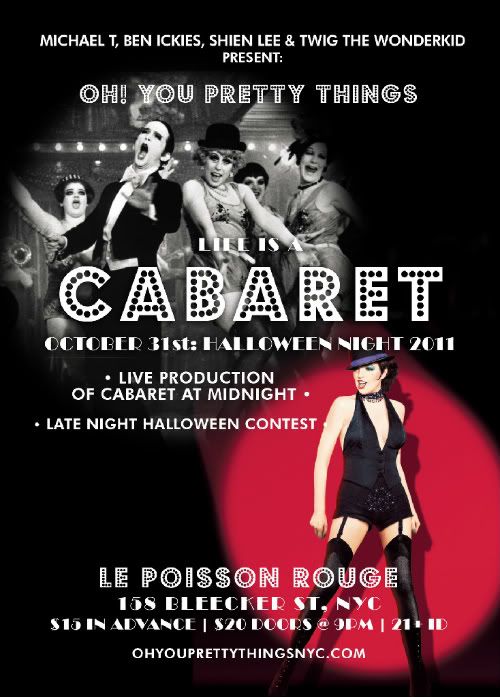 Michael T, Benjamin Ickies, Shien Lee, and Twig the Wonderkid present
OH! YOU PRETTY THINGS : LIFE IS A CABARET
Monday October 31st Halloween Night

Oh! You Pretty Things brings you a Halloween spectacular in tribute to the cult musical "Cabaret" on Halloween night . For one night only This Ambitious Orchestra will perform the glam cabaret arrangements of hit songs from the original musical with an exciting cast of guest singers including Michael T, Isengart, Lady Rizo, Pepper Somerset,

Lee Chappell & Matteo,

Kae Burke, and more .

This spectacular stage show also features Formika as your mistress of ceremonies and the fabulous Lady Circus crew as the "Kit Kat Club" girls with burlesque by The Flying Fox, Go-Go Harder, and tap-dancing sensation Gin Minsky . DJs Twig the Wonderkid, Rich King, Patrick, and Miz Margo spin glam, goth, rock, and swing all night .

In the gallery bar the infamous Nasty Mondays crew from Barcelona Spain spin 50s rock and roll, electro, grunge and everything in between with DJs Mad Max, Soren, Ivan Rodriguez, and Omri S Quire .
Halloween costume contest with fabulous prizes courtesy of VAMPIREFREAKS.COM



MC Misstress Formika

SPECIAL GUESTS

Isengart, Lady Rizo
, Pepper Somerset
,

Lee Chappell & Matteo,

Kae Burke, Traci, and more

BURLESQUE

The Flying Fox, Go-Go Harder, and Gin Minsky

DJs Twig the Wonderkid, Rich King, Patrick, and Miz Margo

HOSTS Herra C, Jason the Black Teen Wolf, Miss Tiffany, Ryan James, and Jarret Edward, Rhyan Hamilton, and Zac Weiss of DINGYDISCO.COM

PHOTOS : Nicky Digital of NICKYDIGITAL.COM

DRESS CODE : Divine Decadence, Weimar Vamp, Burlesque Diva, Vintage Glam, Nazi Chic, Dark Fetish and Sexy

DOOR MISTRESS : Mandana Banshie

$20 GENERAL ADMISSION


$15 RSVP@OHYOUPRETTYTHINGSNYC.

COM

REDUCED PRICE ADVAN

CE TICKETS

http://www.brownpaperticke

ts.com/event/205743


MORE INFO

OHYOUPRETTYTHINGSNYC.

COM

Monday October 31st @ 9pm 21+ID

Le Poisson Rouge 158 Bleecker St New York City