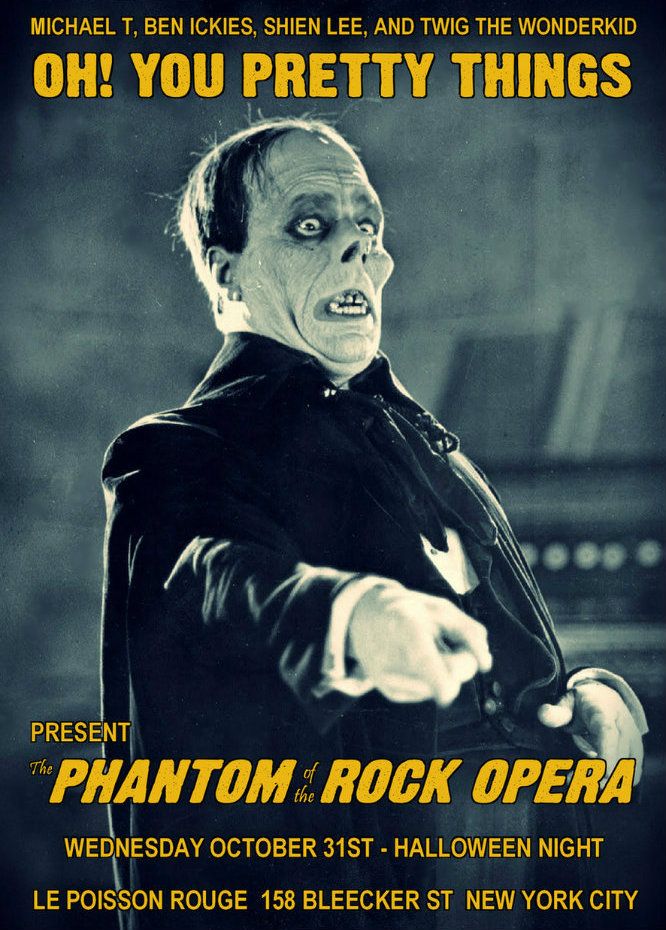 Dear Phantoms,

We regret to inform you that "Phantom of the Rock Opera" must be postponed until further notice due to the continued power-outage in Manhattan, we hope it will coincide with the rescheduled Halloween Parade and will keep you updated .

Michael T, Benjamin Ickies, Shien Lee, and Twig the Wonderkid

Oh! You Pretty Things : The Phantom of the Rock Opera
Oh! You Pretty Things returns with a Halloween spectacular in tribute to the horror-classic PHANTOM OF THE OPERA and camp-classic PHANTOM OF THE PARADISE featuring incendiary performances by Michael T and the Vanities plus live sets by Acey Slade and the Dark Party, Weep featuring Doc Hammer, and the all-girl Misfits tribute Ghoul's Night Out .
EMCEE Pepper Mint
MUSICAL GUESTS
Pepper Somerset, Natasha Komis, Joe Starbolt, Birdy Black, Cici James, Corey Tut, Ryan Lee, and St. Eve
LIVE SETS
Acey Slade and the Dark Party 11:15pm
Weep featuring Doc Hammer 10:15pm
Ghoul's Night Out All-Girl Misfits Tribute 9:15pm
BURLESQUE
Ruby Valentine, The Flying Fox, and Bettina May
HOSTS
King Vulcanus Levi, Miss Tiffany Leigh, Stitch Azintime, Tommy London, Carles Velez, Kris Khaos, and Herra C
DJS
DJ Ceremony, Ron Like Hell, and James David
PHANTASMAGORIC LATE-NITE HALLOWEEN COSTUME CONTEST with prizes from Halloween Adventure, Gothic Renaissance, Vampire Freaks, Legacy Records, Death Records, and Blue Michael Cosmetics
MAKEOVERS by Blue Michael Cosmetics
VIDEO by Party Fowl Productions
PHOTOS by Michael Blase
DOOR by Brendon James
$20 GENERAL ADMISSION
$15 RSVP@OHYOUPRETTYTHINGSNYC.
COM
$15 ADVANCE TICKETS
https://

secure.gigmaven.com/events/

8912/orders/new
Le Poisson Rouge 158 Bleecker and Thompson St New York City